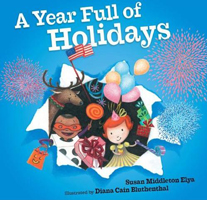 "When Nell had her birthday, her whole house was buzzin'
with family and neighbors and friends by the dozen.
She opened her presents, ate ice cream and cake,
and thought of the one special wish she would make.
That night, she asked, "When'll my birthday come back?"
"The holidays," Mom said, "will help you keep track...""
Nell is confused over which holidays come next. She can't wait until her birthday and is too young to understand the calendar. Her mom helps her wait by celebrating the holidays that will circle back to her birthday.

Illustrated by Diane Cain Bluthenthal
Published by G.P. Putnam's Sons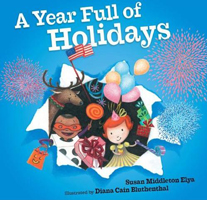 Reviews
School Library Journal
Pre S - Grad2, Young Nell celebrates her August birthday and she asks,,"When'll my birthday come back?" "The holidays," said Mom, "will help you keep track." Thus begins a year's worth of days that the child and her family celebrate. Labor Day, Halloween, Thanksgiving, etc., are accompanied by rhyming couplets that describe how the holiday is observed. A mulitcultural cast of characters in Nell's community takes part in the festivities, helping to make them joyful celbrations. Though Nell's family doesn't observe every holiday - for example, Hannukah, Kwanzaa, and Passover aren't included -- the months bring special days that will pertain to all readers, such as Mother's Day, Memorial Day, and the 4th of July. Cheerful, bright-hued colored-pencil illustrations add much to this pleasing and lively book about happy, memory-making occasions. What's not to like? --Maryann H. Owen, Racine Public Library, WI