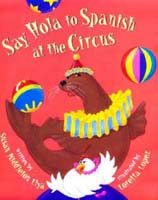 "Spanish is fun, so give it a try.
Hola is hello, adiós is goodbye.
Come to el circo. Bring tu mamá,
and tus hermanos, abuelos, papá..."
The third book in the non-fiction series takes the reader to the circus to learn 70 more Spanish words (in an English text) that one might encounter at a circus - Lion, giraffe, elephant, seal, monkey, clown, hot dog, trapeze, etc. While leaving the circus, the family encounters a rainstorm and a rainbow.

Published by Lee & Low
Illustrated by Loretta Lopez
Illustrations on this page are copyrighted by Loretta Lopez 2000.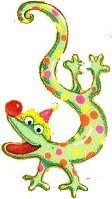 Reviews
Amazon
"Beginning Spanish language students (or anyone who loves to explore new languages) will delight in the Spanish/English wordplay as they make their way through the big top at the circus. It's easy to figure out what each Spanish word means from the context of the lively rhymes accompanied by bright, playful pictures. There's no reason learning a new language shouldn't be loads of fun - - and this book proves it! More than 70 oversized, italicized Spanish words are introduced, and a glossary (with a pronunciation guide) allows readers to double-check what they've learned." (Ages 4 to 8) -- Emilie Coulter
Contra Costa Times
"A delightful bilingual romp where young Anglos can go to the circus and learn Spanish simultaneously. Lopez's gouache colored pencil artwork makes the meanings abundantly clear. A glossary lists the 70 Spanish words and expressions in the text. Elya has tried to employ the Spanish used by Hispanics everywhere, but where she's had to use idioms, this part of the world wins out. "Feel like a snack?/ Un perro caliente?/ For your hot dog to last,/ you chew lentamente.""