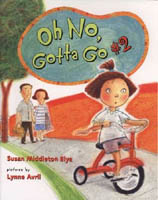 "My parents and I were out walking la calle.
Mamá packed a basket, with every detalle,
I sat on my trike and was ready to roam.
I'd gone to the baño before we left home..."
What happens when the same little girl from Oh No, Gotta Go eats too much spinach salad on a picnic? Will she make it home on her trike in time?

Illustrated by Lynne Avril
Published by G. P. Putnam's Sons
Due Summer 2007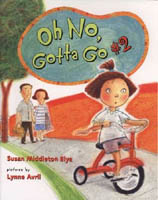 Reviews
The Bulletin of the Center for Children's Books
The spunky little Latina who learned the limit of bladder control in Oh No, Gotta Go isn't taking any chances on her current outing to the park for a picnic. Not only does she dutifully visit the baño before leaving home, she also makes a grand effort at dehydration: " I didn't drink jugo or pink limonada./ I didn't drink agua. I didn't drink nada!" But on her tricycle, blocks from home, she realizes that the spinach salad wants out –now—and her parents are again called upon to make a mad dash for the facilities before disaster strikes. Although this particular little gal's intestinal woes play out bilingually in English and Spanish (with glossary provided), there are no cultural boundaries to potty panic, and all listeners and their long-suffering parents will recognize the scenario. The frantic urgency is underscored by Avril's chalk pastels, which segue from cool greens and relatively static compositions of a leisurely trip to the park, to the fiery reds and oranges of the bolt for the bathroom. Will this cautionary tale convince little ones of the need for preemptive bathroom visits? Not likely. But perhaps they and their parents will face the next accident with better grace. EB
School Library Journal
In this follow-up to Oh No, Gotta Go ( Putnam, 2003), a niña goes on a picnic with her mother and father. She proudly states that she has planned ahead and not had anything to drink, so she will not need to use the bathroom during the outing. However, after the family begins walking home, she suddenly realizes that, "There's more than one reason to sit on the pot," and they must sprint back home to make it on time. The text, in rhyming couplets with one or two Spanish words in most lines, is fun to read aloud. A glossary with pronunciations is featured at the beginning of the book. Avrils' chalk pastel and acrylic cartoon illustrations are full of action and bright colors, including some not-so-subtle indications of how the little girl feels ( the street begins to resemble a volcano). Her actions and facial expressions are exactly right as realization dawns on her. This is a light-hearted look at a common childhood predicament. (Susan E. Murray, Glendale Public Library, AZ)
Kirkus
Elya has created another winner in this natural follow-up to Oh No, Gotta Go ( 2003). This time, the young heroine is on a picnic at the park with her parents. Having learned from her previous experience, she hasn't had anything to drink and she used the bathroom before leaving home. So when Papá mentions it at the park, she knows she doesn't have to go. But as she pedals home she soon realizes, "There's more than one reason to sit on the pot." "'The salad! The spinach! The green espinaca! Why that means, "Papa" said, "she has to go caca!" Out-of-breath readers will race along with the frantic parents and breathe a sigh of relief when they make it just in time. Elya's rhyming couplets perfectly capture both the toddler's casual attitude and her sudden urgency for the baño. The mix of Spanish in the text is seamless, the words easily placed in context with the aid of Avril's pastel and acrylic illustrations (a glossary is also provided). Facial expressions and body language are masterfully presented, adding to the humor of the text. Young children will especially chuckle at the road's transformation into a steaming volcano, a quite apropos metaphor. This tale about the necessary is definitely necessary ( picture book 2 -7).