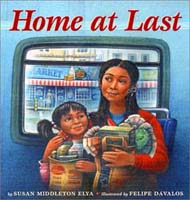 "Ana Patiño's family came to the United States when she was eight and her twin brothers, Jesús and Julio, were babies. They moved to a town surrounded by corn, and Papá took a job with Uncle Luis at the canning factory..."
Ana and her family have just arrived in the U.S. from Mexico. Everything is so different here. Ana and Papá go to school and work each day, where they learn English. Mamá stays at home with the twins and speaks only Spanish. After a series of miscommunications, Mama realizes that she must learn English. Ana and Papá help her learn to make her new home in America.

Illustrated by Felipe Davalos
Published by Lee & Low
Illustrations on this page are copyrighted by Felipe Davalos 2002.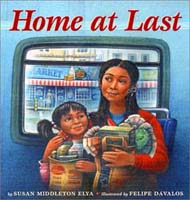 Honors
* Notable Social Studies Trade Book for Young People, 2003
Reviews
Kirkus
"[Susan Middleton] Elya departs here from her usual format of teaching Spanish to explore the difficulties faced by immigrants in a new land. Ana's family, just arrived from Mexico, must adjust to foreign surroundings and a different language. Ana is delighted with her teacher in school and picks up English quickly. Her father's job in the canning factory affords him the opportunity to learn English, too. But her mother, who mostly stays in the apartment with Ana's twin brothers, feels homesick and overwhelmed with the prospect of learning a new language. Not being able to communicate at the grocery store is bad enough, but when one of the twins becomes ill and Mamá cannot make herself understood by the neighbors, she knows it is time to learn English. With the family's encouragement, she enrolls in a class in the evening and makes steady progress, acing her first test. Mamá finds that her newfound language skills make life easier, enabling her finally to think of the new place as home. Appealing illustrations in oil convey the warmth of Ana's family, although they are portrayed as more middle class than the average newcomer from Mexico is likely to be.
A well-told story of triumph and family solidarity."
Booklist
"Ana and her family have recently arrived in the U.S. from Mexico. Ana goes to school and her papá has a job, but Mamá stays home with the twin toddlers, isolated and unable to speak English. Although told from Ana's point of view, this is really the mother's story. Mrs. Patino is embarrassed in the grocery store, and she panics when one of the boys gets sick and she can't ask for help. In bibliotherapeutic fashion, Ana and her father persuade Mamá to go to English class, where she learns the language, passes her test perfectly, and even successfully deals with the clerk who overcharged her at the grocery store. Despite the rather dutiful text, this highlights a problem many immigrant children must deal with -- the inability or unwillingness of a parent to learn English. The sturdy illustrations, handsomely executed in oils, are most successful when depicting the expressions of characters:
fear, pleasure, and eventually, hope."
--Ilene Cooper
The Sacramento Bee
"Home at Last by Susan Middleton Elya is a touching story about a mother from Mexico who relies on her 8-year-old daughter to translate for her. Not until she's cheated at the grocery store does she bend to her daughter's wishes and begin to learn English. Colorful illustrations by Felipe Davalos of Sacramento capture every nuance of the family's isolation
and struggles to adapt to their new land."
-- Judy Green
The Reading Teacher

"When Ana and her family move from Mexico to the United States they are faced with the challenges of learning a new language and acclimating to the customs of a new culture. In Home at Last, by Susan Middleton Elya, 8-year old Ana, initially shy of her classmates, quickly picks up English words and practices them at home with her father. The move wears much harder on her mother, who misses friends and family and struggles doing the grocery shopping in English. Ana and her father encourage Mamá to attend English as a Second Language classes, supporting her as she learns to speak and becomes more functional and comfortable in American culture. Elya masterfully combines bilingual elements into this engaging and thoughtful family story. Felipe Davalos's oil paintings are detailed and thoughtful, showcasing the characters' emotions and the book's settings."

Bulletin of the Center for Children's Books

"The Patiño family has just arrived in the United States, when Papá takes a factory job with his brother and Ana is promptly packed off to school. The young girl slowly but successfully makes inroads into a new language and culture; Mamá, though, is pretty much stranded in their apartment with the twin baby boys, and for her acculturation is a much greater challenge. Nothing at the grocery store is familiar; she's overcharged by the clerk, and she's treated brusquely by neighbors who have no patience with her stumbling attempts at English. Only when one of the babies falls ill and Papá is not around to help is Mamá finally convinced that she, too, must learn English, and her diligence at night school finally pays off in a triumph at the grocery store and the promise of their first family feast. Although the tale focuses on Mamá, it plays through Ana's point of view, and the child's frustration with Mama's stubborness and her own inability to help in any direct way are powerfully conveyed. Davalos captures much of Mamá's pain and dignity in her expressive doe eyes . . . the text . . . is smooth and well paced, and listeners who take communication for granted will readily sense the vulnerability of a newcomer who has left her language at home."