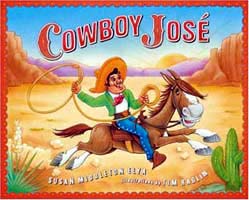 "Meet a real cowboy, José, el vaquero.
He wears cowboy clothes, like boots made of cuero.
He rides his horse, Feo, who's sturdy and kind.
"José, hop on up. We've got cattle to find."
Caballo and cowboy -- their friendship is strong.
They ride 'cross the prairie and belt out a song..."
Cowboy José and his horse, Feo, are doing fine until José meets a girl, Rosita. She tells him he must ride the wild bronco at the rodeo before she will date him. Wait until you see what José does next! English and Spanish.

Illustrated by Tim Raglin
Published by G.P. Putnam's Sons
Illustration copyrighted by Tim Raglin. s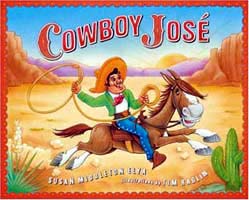 Honors

*Chicago Public Library's Best of the Best, 2005 list.

Reviews
School Library Journal
"K-Gr 3 - When José sees Rosita, he can hardly wait to ask her for una cita, but the bonita girl requires her vaquero to have mucho dinero. So, with the help of his horse, Feo, José enters the rodeo hoping to win the necessary funds. After a successful ride on a dangerous bronco, he is rico enough for Rosita, however, in a surprising twist, he chooses friendship over beauty and spends his money on dinner for Feo. Afterward, the two ride off into the sunset together. This story has something for everyone: friendship, greed, danger, and a happy ending. Elya's engaging text features snappy rhymes and plenty of contextual clues for the Spanish words that appear in bold type. The rhyming scheme helps non-Spanish speakers with pronunciation, and a glossary at the beginning of the book provides phonetic guides and definitions. Raglin's watercolor-and-colored-pencil artwork features bright south-of-the-border colors and characters in traditional dress to accentuate the story's Mexican setting. The illustrations, especially the facial expressions, add depth and humor to the story. This rollicking tale is ideal for storytime sharing." -- Catherine Callegari, San Antonio Public Library, TX Copyright 2005 Reed Business Information
Booklist
"K-Gr. 1. The plot of this story-in-verse may be insubstantial (a Mexican cowboy wants to impress a gold-digging señorita), but Elya's lazy, clippety-clopping rhythms are irresistible: "Caballo and cowboy - their friendship is strong. They ride 'cross the prairie and belt out a song. They sing canciones. José plays maracas. 'Get along little dogies, get along, little vacas.'" Such self-consciously hokey lines pair seamlessly with Raglin's slick, comic artwork, which owes an obvious debt to Saturday morning cartoons. As in Elya's Oh No! Gotta Go (2003), the text shifts gracefully between English and Spanish, and a glossary, together with frequent visual and contextual clues, bring meanings to light for greenhorns. There is no pronunciation key to explain the glossary's phonetic formulations (BYEHN for bien, for example), but the beauty of bilingual poetry - in which bowl might be rhymed with the Spanish sol-is that the pronunciation lesson is implicit. This will pair nicely with Eric Kimmel's Cactus Soup, perhaps for a Cinco de Mayo storytime" -- Jennifer Mattson
Kirkus
"Rollicking rhymed 'Spanglish' couplets tell the tale of 'Cowboy José, the vaquero' and his faithful horse Feo who 'ride 'cross the prairie and belt out a song,' and then get involved with a gal named Rosita, who is pretty - bonita. The story is minimal and predictable. Rosita is a gold digger who loves the vaquero not for himself, but for his dinero. Perhaps to reinforce the tall-tale nature of the story, the lively and humorous cartoon illustrations depict Mexican stereotypes that some may find troubling. The inclusion of Spanish words can be viewed as humorous or educational. Sometimes the verses strain as hard as the characters. 'José grips the horse at his middle - su tronco. / His legs squeeze the sides of the wild bucking bronco.' A glossary of Spanish words with pronunciations precedes the story, although many non-Spanish speakers will be able to guess the meanings from the context and repetition in English, recommended mainly for its language possibilities."