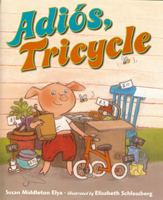 "Yard is filled with outgrown ropa,
pots for plantas, bowls for sopa,
curtains made of corduroy,
this old trike-my favorite toy."
Even though this little guy has outgrown his tricycle, that doesn't mean he's ready to give it up! It's yard sale day, and he tries his hardest to steer shoppers away from his triciclo...
English and Spanish, humor, rhymes. Glossary.

Illustrated by Elisabeth Schlossberg
Published by G.P. Putnam's Sons
Illustrations on this page are copyrighted by Elisabeth Schlossberg, 2009.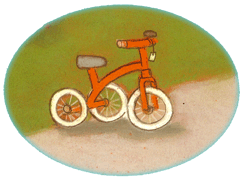 Reviews
School Library Journal
"PreS –This little piggy has a problem. Even though he has outgrown his tricycle, he's still not ready to sell it at his family's yard sale. He tries hiding it behind different items throughout the morning, but there are still interested buyers. Finally the piglet must come to terms with letting it go. But it turns out that the day's proceeds are designated for a satisfying ending–a new bike. Elya is focused as usual on the transitions of childhood and how difficult they can be for young children. Another hallmark of her writing is her incorporation of Spanish vocabulary into the rhyming text. The end rhymes can sometimes be clunky to read aloud, but the use of Spanish words in context (and in a bold font) is well done. Schlossberg's illustrations are friendly and familiar–children will relate to the pig's expressions as people show interest in his beloved tricycle, and there are lots of little details for children to pore over in them. This book will be a hit in both bilingual storytimes and with families as well." –Susan E. Murray, Glendale Public Library, AZ


Booklist
"Peppy, rhyming text filled with Spanish vocabulary words tells this entertaining, supportive story about letting go of a beloved, outgrown object. A young pig describes the items in his family's yard sale: ropa (clothing), bowls for sopa (soup), and 'this old trike—my favorite toy.' Though the tricycle is now too small, the little pig finds that selling it isn't easy, and he tries to hide it from potential buyers. Papi notes that the 'triciclo looks lonely,' but then one last customer falls in love with the little bike, and the young narrator is finally able to let it go. The lively verse will inspire animated read-alouds, and language learners can flip to the appended glossary to find the Spanish terms simply defined. Schlossberg's pastel illustrations capture the mixed emotions in scenes of the diverse animal characters, from bears to bunnies, young and old. In the end, the expressive young pig appears on his new two-wheeler, with training wheels and helmet. A warm, enjoyable choice for bilingual storytimes."— Shelle Rosenfeld