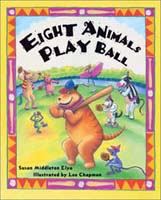 "Eight animales, ready to play,
head to the parque-the park-for the day.
Mouse comes with roller skates strapped to his feet.
'Patines de ruedas,' Ratón says, 'are neat...'"
Mouse, Cat, Dog, Frog, Bird, Pig, Horse, and Cow are back! This time they each bring something to play at the park and end up playing baseball. Feelings get hurt during the game, but a rainshower helps the eight animales get along in the end.
English and Spanish. Glossary.

Illustrated by Lee Chapman
Published by G.P. Putnam's Sons
Illustrations on this page are copyrighted by Lee Chapman 2003.
Honors and Awards
* Named to 2002 Bank Street College Best Children's Books of the Year
* Selected for the 2004 and 2007 editions of Dolly Parton's Imagination Library
Reviews
Kirkus
¡Mira! having gone On the Town (2000) and tried to Bake a Cake (2002) together, eight contentious friends rumble out to the parque to play. But what? Each has brought different equipment. Deftly folding Spanish words -- translated in an opening glossary, in the rainbow borders around the glowing, smile-laden, folk-art flavored paintings, and in context, too -- into her infectious rhyme, Elya takes her menagerie from quarrel to consensus, then through a spirited game of béisbol abruptly terminated by new squabbles and rain. But all the differences are forgotten by the end, as "Caballo shares coats with both Perro and Gato/ and Cerdo trades his coat for Vaca's silbato," so that "cozy and dry under wings and abrigos/ they're eight drip-dry friends. / That's ocho amigos." With a formula that shows no signs of wearing thin, this third episode again provides both a bridge between languages, and a lively take on conflict resolution. Bueno! (Picture book, 6-8)

School Library Journal
Grade 1-3. Eight amigos return for their third book together. Each creature heads to the park, bringing along a different item --roller skates, a soccer ball, a kite, a football, and a baseball bat. Deciding that they want to play something together, the animals start a baseball game with Cat's bat. Trouble quickly ensues when Horse, Cat, and Pig become competitive and ruin the fun. A rainstorm forces the animals to quit their game, but it also provides the necessary distraction to end their bickering. This rhyming picture book blends English and Spanish text, making it a wonderful choice for bilingual storytimes, English speakers learning Spanish, or Spanish speakers learning English. The vibrant artwork, rendered in oil pastels, depicts the eight animales and their surroundings in a cartoon style. Colorful borders and vivid background colors frame each page. A glossary and pronunciation guide appear right up front to assist readers with unfamiliar words.
A winner for collections needing Spanish-language materials, or materials for ESOL students.
--Lisa Gangemi Kropp, Middle School Public Library, Centereach, NY
Booklist

PreS-Gr. 1. Another inventive offering from the team that brought readers Eight Animals Bake a Cake (2002). When eight animal buddies go to the park, they take various toys and equipment, such as Raton the mouse's roller skates and Pájaro the bird's kite. But they decide to play baseball because they can do it together. Umpire Vaca's call leads to a few hard feelings, but when it starts to rain, sharing coats and wings as shelter brings them all together again. Elya produces a bouncy, rhymed story that mixes English and Spanish words in a way that teaches both. Chapman's fiesta-colored cartoon-style art neatly portrays the characters and the fun. Each image sits in its brightly bordered frame, and each frame usually includes a direct word translation: strike equals estrái! A merry way to teach a little English, a little Spanish, and lots of good cooperation. A glossary and pronunciation guides are included.
-- GraceAnne A. DeCandido
The A List, Family Fun Magazine
In Eight Animals Play Ball (Putnam, $16), one of this spring's more unusual baseball-themed works, four-to-eight-year-olds can soak up the game -- and some Spanish as well. Written by Susan Middleton Elya and illustrated by Lee Chapman, this fiesta-bright picture book incorporates Spanish vocabulary into its rhyming tale about a ragtag team of ball-playing beasts. Kids learn the español for bat ("bate") and baseball ("béisbol") and such useful phrases as "hey, batter!" ("Eh, bateador!").
-- Alicia Potter